On April 2, 2020 new security measures were implemented to further secure Zoom classes and meetings at UT Austin. Users will now be required to use the desktop or mobile application and be signed into their UT Zoom account (https://utexas.zoom.us).
What do I need to do?
Download the Zoom application and "Sign In with SSO" to the Zoom app on your device. The company name is utexas and you will use your UT EID credentials. If you are signed into a personal account, or are not using the desktop or mobile client, then you will be placed in the waiting room when you join meetings.
The desktop application can be downloaded at utexas.zoom.us and is available for Windows, Mac, and Linux. Click Download Client, and then download Zoom Client for Meetings. The Zoom mobile application is available in the Apple Store and Google Play store.
If you do not follow these steps before attempting to join a class or meeting, you will be placed in the Zoom Waiting Room where you must wait for the instructor or meeting host to admit you.
Collaborating with users outside UT Austin
Anyone outside the UT Austin faculty, staff, and student community attempting to access a UT Zoom meeting must have an external Zoom account (free, etc.).  The host will also need to change the meeting authentication settings from "UT Austin" to "Sign in to Zoom (Guest)"

External participants will be considered Guests. 
By default, the Waiting Room setting is enabled and will send Only Guests (Non-EID accounts) to the Waiting Room.  For more information please see Zoom Waiting Room
If the Waiting Room setting is enabled for the Zoom meeting, Guests will be placed in the Zoom Waiting Room until admitted by the meeting host. To admit someone from the Waiting Room, click the Admit button next to their Zoom identity within the Waiting Room section of the Participant window.

You can readily Admit All in one click, however, for large groups this is not recommended as uninvited participants can easily be waiting and admitted without your knowledge.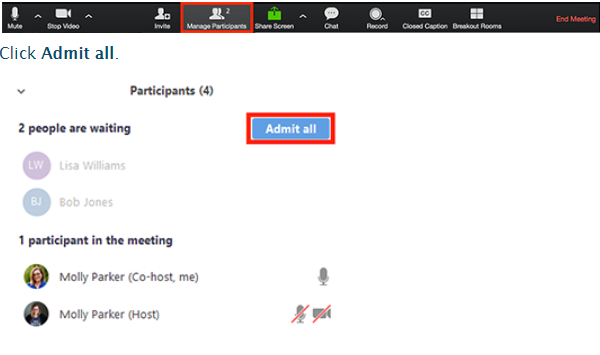 You can appoint meeting co-hosts who can assist with meeting management, such as admitting from the Zoom Waiting Room. This is especially helpful for large groups and can be a valuable role for TAs and RAs.
Other suggestions for avoiding disruptions
To maintain the integrity of your Zoom meeting or webinar, you may take advantage of several features offered in Zoom at UT to better prevent unwanted disruptions during Zoom calls.
Ensure you are using the utexas.zoom.us domain (https://utexas.zoom.us/) for your Zoom calls to take advantage of increased security measures.
Do not publish your Zoom meeting links in public forums such as Twitter. Share your links through more secure means such as email, calendar invites, and closed groups.
Review the entire list of Zoom security features for both private and public events, including generating a unique meeting ID, requiring a password, muting video and audio of participants, and enabling waiting rooms.
Most Zoom settings are restricted by default for maximal security, but in light of the enhanced access control described above, you are able to experience a less restricted environment once inside of Zoom. You can change the settings in your profile by going to utexas.zoom.us, signing in, and clicking on Settings.
Note that once settings are changed, they will remain until you change them back. Those changes will become the default for all meetings that you create going forward.
Some (but not all) settings can be changed for a specific meeting when creating the meeting. After signing in at utexas.zoom.us, select Meetings, then Schedule a New Meeting. You will see several Meeting Options that are preset based on your profile and can be toggled on or off. Two specific settings, Enable waiting room and Only authenticated users can join, are locked (on).
When you change a setting in your profile, it DOES NOT change that setting for meetings previously created, and you must go back and change them manually. For settings that are not part of the Meeting settings described above, the only way to change the setting for a previously created meeting is to cancel and recreate it.
Additional security measures may be needed in the future as we continue to learn more about the functionality of the platform and the nature of these disruptions.



Faculty members can find technical support for Zoom and its various settings here. For additional information on these and other ways to maintain the integrity of your Zoom meetings, learn more at Zoom Privacy and Security.
Questions and support requests should go to the ITS Service Desk at (512) 475-9400 or email zoom@utexas.edu.  
Quick Links for Zoom
Contact ITS Service Desk for Zoom Support
Email:
Phone:
Website: