As ITS cannot provide departmental or shared Zoom accounts, we recommend using the Alternative Host and/or Scheduling Privilege features in Zoom to allow for shared Zoom Meeting scheduling and concurrent meetings.
UT Zoom users can have two concurrent meetings in progress from their account, but license upgrades for five or more concurrent meetings on a designated account may be available. Please contact
zoom@utexas.edu
for more information on cost and availability.
Alternative Hosts
may be assigned to a meeting by adding another user's account in the
Alternative Hosts
 field when scheduling your meeting or webinar. Alternative Hosts may launch and host the meeting you scheduled without you having to join, even if you have another meeting active. Alternative Hosts will join that meeting as as the
host role with all host controls
. If the original host joins, the alternative host will be changed to co-host.
When scheduling your meeting in Zoom, Outlook, or Canvas, you may add alternative hosts' [EID]@eid.utexas.edu address to the Alternative Hosts field (may be under Options or Advanced options). You may choose whether or not to allow your Alternative Hosts to create or modify polls in meeting here.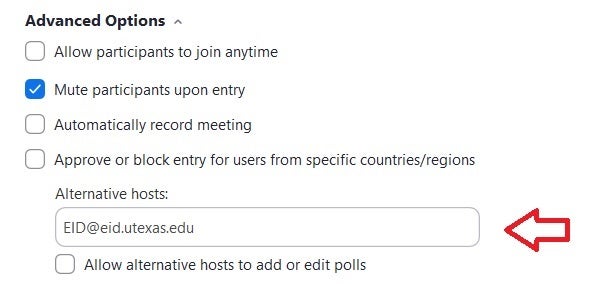 If you have already scheduled the meeting, you may still add alternative hosts:
Click Edit next to the meeting

Add your alternative hosts' [EID]@eid.utexas.edu address to the Alternative Hosts field (under Options)

Click Save, and your new alternative host will receive a new link via email
Scheduling Privilege
Scheduling Privileges
 allow you to assign another user to schedule and be an Alternative Host for all meetings on your account. This is useful when your account is used for meeting sessions frequently co-hosted by peers, and you may need to host or join a separate Zoom meeting. When granted Scheduling Privileges, they may host your meetings in your absence. It is also helpful if you want one or more persons to help in schedule meetings on another person's behalf.
To assign Scheduling Privileges to another person for your account:
Log in to utexas.zoom.us and go to Settings
Scroll to the bottom of the settings page for Scheduling Privilege
Click the + sign next to Assign Scheduling Privileges to, and enter the [EID]@eid.utexas.edu address(es) of the person(s) you wish to assign scheduling privileges
Accounts you have Scheduling Privileges on are listed under I can schedule for
You may remove your Scheduling Privileges by clicking the X next to their account name.

 5. You will now see a new Schedule For option when creating meetings to select the host account for the meeting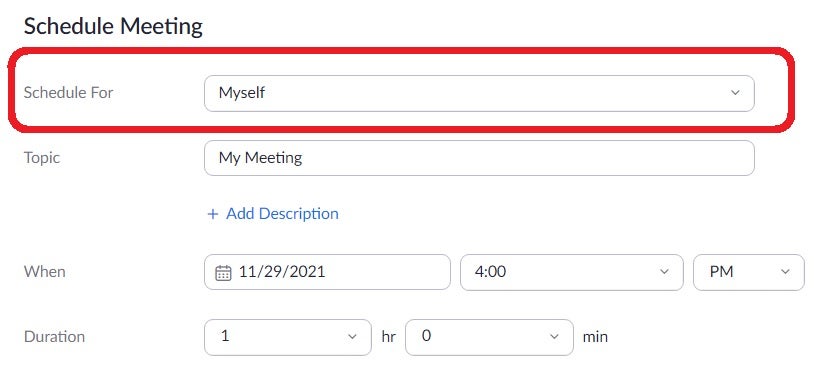 Note: You may also transfer already created meetings to another user with Schedulding Privileges in the meeting's settings. 
Quick Links
Contact ITS Service Desk for Zoom Support
Email:
Phone:
Website: