As of May 23rd, 2022, 5.10.4 is the new minimum client version for Zoom meetings and webinar hosted by UT Zoom accounts. With this update, new features released since 5.8.4 are now available campus-wide.
We encourage you to check your 
Settings
 in browser to review any new features or settings for the coming semester.  Below, we are highlighting several features that may help in Zoom meetings and webinars for faculty, students, and staff.
---
Support for multi-spotlight for Cloud Recordings
Cloud recordings will recognize and record up to 9 spotlighted participants in a meeting or webinar. This feature gives flexibility to the layout of your Cloud Recording using Spotlighting.
Schedule a recurring Meeting with Saved Breakout Rooms
When breakout rooms are created, the host can save that current configuration and participant assignments, which can be used in future sessions. This is only available for recurring meetings and limited to 10 saved configurations per user.
1. After breakout rooms have been assigned, but are not currently open, click the 
 button and then click Save Breakout Rooms.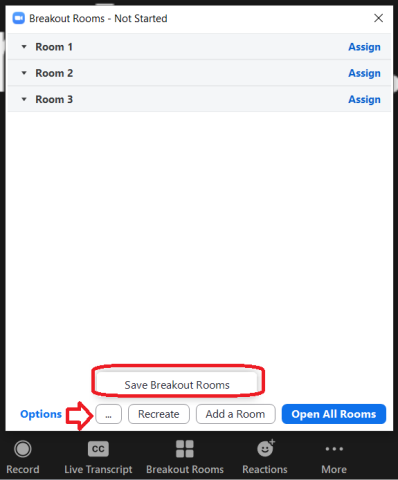 2. Provide a name for this set of assignments and click Save.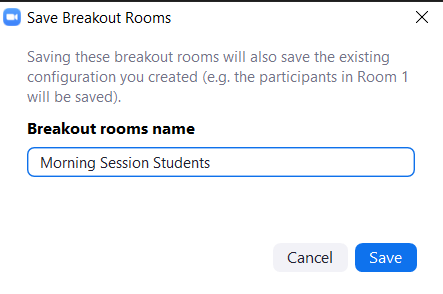 3. You can now load your saved configurations when scheduling new recurring meetings.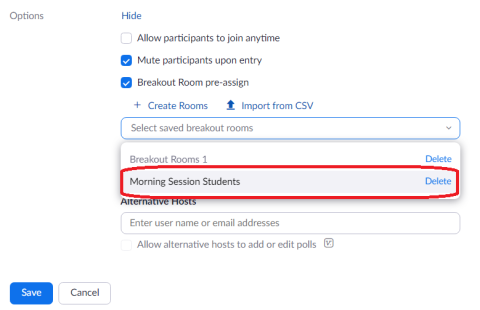 View Breakout Rooms from the Main Session
Hosts can get an idea of how active their breakout rooms are by viewing the list of open breakout rooms. Each participant in those breakout rooms will show their current video and audio status, if they are sharing their screen, and any active reactions or nonverbal feedback.
Enhancement to Waiting Room participants order

 
Hosts can choose to display the participants currently in the Waiting Room in either chronological or alphabetical order. This is set in the Waiting Room Edit Options settings in the web portal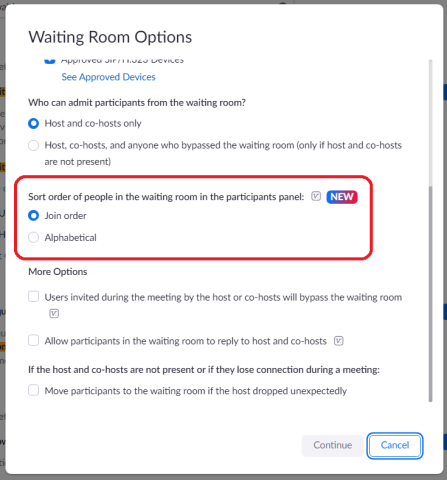 Rename participants in Waiting Room
Hosts and co-hosts can rename meeting participants in the waiting room before they enter the meeting. After locating a participant's name in the waiting room section of the participant list, an option appears in the ... menu to rename that participant. The participant is notified of this change.
Webinars Reactions
Disabled by default, this option controls access to Webinar Reactions.
Hosts can customize the appearance of the in-webinar experience by adding a wallpaper behind the video tiles, setting a common virtual background for all panelists, and providing name tags for each panelist. This requires version 5.10.0 or higher to use and/or view, but does not require this version to join the webinar.
Quick Links
Contact ITS Service Desk for Zoom Support
Email:
Phone:
Website: